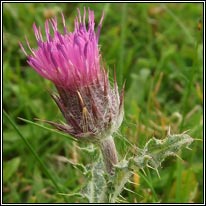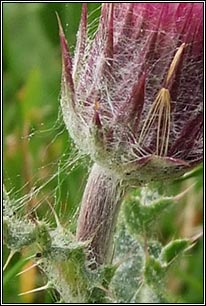 Welted Thistle
Carduus crispus
Feochadán reangach
Family: Asteraceae

Flowering time: June-August. Biennial. Native.

Red-purple flowerheads, solitary or in clusters of 3-5. Bracts weakly spine-tipped. Achenes with simple pappus hairs. Leaves cottony below, oblong-lanceolate, spiny. Pinnate, lobes 3-lobed. Stem erect, branched, narrow, wavy, spine-tipped wings except below flower-heads. Height: 30-120cm.

Dry banks, wasteground. Occasional, mainly E and central Ireland.