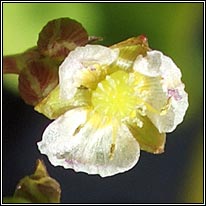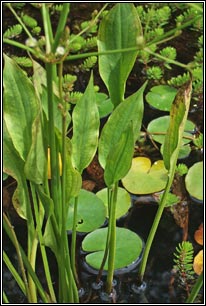 Narrow-leaved Water-plantain
Alisma lanceolatum
Corrchopóg chaol
Family: Alismataceae

Flowering time: June-August. Semi-aquatic perennial. Native.

Pale-mauve to whitish flowers, yellow blotch at base. 3 petals and sepals.
Many yellow anthers. Usually opening in morning. Fruit widest near middle.
Leaves with tapered bases, narrow elliptical-lanceolate. Height: 40-75cm.

Occasional. Exposed mud or shallow slow-moving water.

Similar: Common Water-plantain, A. plantago-aquatica. Frequent. Wider leaves, flowers usually open afternoon.