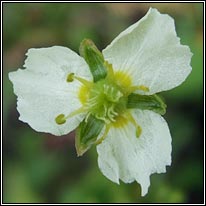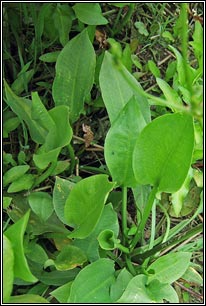 Common Water-plantain
Alisma plantago-aquatica
Corrchopog
Family: Alismataceae

Flowering time: June-September. Perennial. Native.

Whorls of small white flowers with yellow centres and 6 stamens. Usually open in afternoon. Erect long-stalked oval leaves, cordate or truncate at base. Hairless. Erect stems. Height: to 75cm.

Very frequent. Muddy ditches, shallow fresh water.

Similar: Narrow-leaved Water-plantain, A. lanceolatum.
Tapered, narrow leaves. Occasional.