Irish wildflowers




Photos: nr Mallow, Co.Cork



Creeping Cinquefoil
Potentilla reptans
Cúig Mhéar Mhuire
Family: Rosaceae

Flowering time: June-September. Perennial. Native.

Axilary yellow flowers with 5 petals and sepals. Numerous carpels.
Leaves are palmate with 5-7 leaflets. Spreading runners, rooting at nodes.
Stems long, slender, sometimes reddish. Spread: 30-100 cm

Common, wasteland, roadsides, hedgebanks.

Similar: Trailing Tormentil, P. anglica. Yellow flowers with 4 or 5 petals.
Tri-foliate or palmate leaves.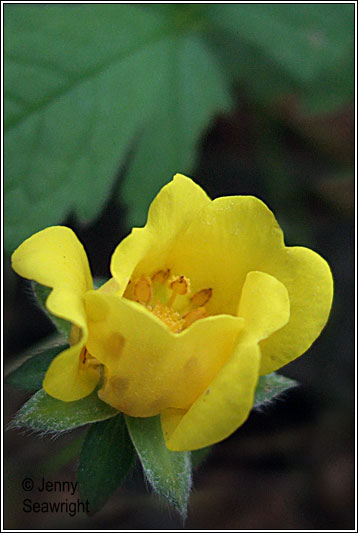 Photograph left above: The Gearagh, County Cork.