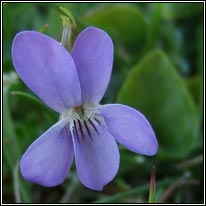 Photos: Barley Cove, Co.Cork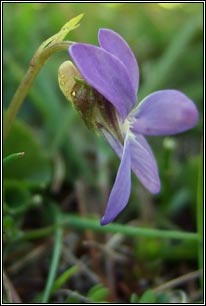 Heath Dog-violet
Viola canina
Sailchuach mhóna
Family: Violaceae

Flowering time: Late April-June. Perennial. Native.

Bluish-mauve or whitish flowers with blunt yellowish / greenish spur.
Leaves longer than broad, cordate (heart-shaped) at base. No basal leaf rosette. Creeping stems. Sepal appendages not enlarged in fruit. More/less hairless.

Local on acidic ground. Heaths, coastal dunes, acidic grassland, fens. Most frequent in W and NW Ireland. Declining due to habitat loss. Hybridises with Common Dog-violet and Pale Dog-violet.