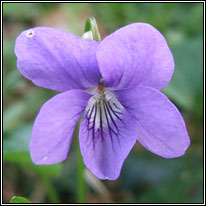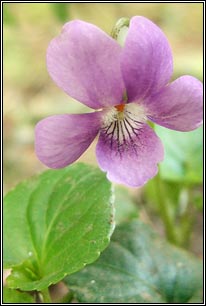 Common Dog-violet
Viola riviniana
Sailchuach chon
Family: Violaceae

Flowering: March-May, sometimes again August-October. Perennial. Native.

Scentless violet-blue flowers with branched purple veins on lower petals.
Spur is notched, pale violet or whitish. Flowers on leafy shoots rising from central
leaf-rosette. Leaves long-stalked, cordate (heart-shaped) with toothed stipules.
Fruit 3-angled, 3-seeded. Frequently hybridises with other violet species.
Viola riviniana var.nemorosa has a dark-violet spur.

Common on all soils, woods, banks, grassland, roadsides.