Irish wildflowers








Sea Rocket
Cakile maritima
Cearrbhacán mara
Family: Brassicaceae

Flowering time: June-September. Annual. Native.

Pale mauve or white flowers in elongating racemes. Erect sepals.
Fruit spindle-shaped, 2-seeded. Spreading branches with fleshy leaves.
Leaves alternate, pinnately lobed or entire. Bushy, hairless. To 50cm

Coastal, on sand, shingle, rocks.

Similar: Sea Kale, Crambe maritima. Cabbage-like plant with panicles of white flowers. Coastal, mainly E, SE, S Ireland.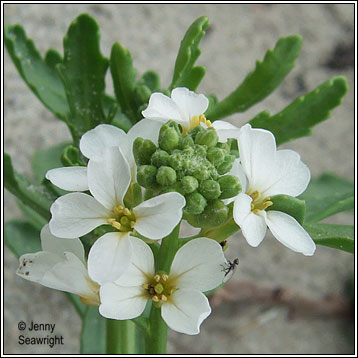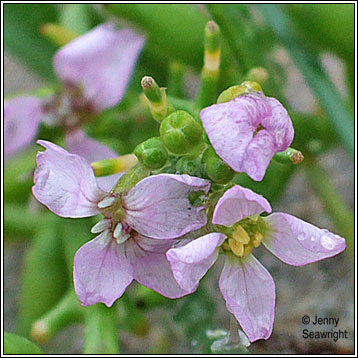 Inchidoney, Co.Cork. June 2007

Derrynane, Co.Kerry. September 2006