Irish wildflowers




Photos: Crookhaven, Co.Cork





Wild Carrot
Daucus carota subsp. carota
Mealbhacán
Family: Apiaceae

Flowering time: June-August. Biennial. Native.

Umbels of small white or white/pinkish flowers, central flower often red.
Umbel rays become contracted, concave in fruit. Fruit oblong, short spines.
Leaves pinnate, lanceolate-oval with pinnatifid leaflets.
Ridged stems. Erect, narrowly branched, hairy plant. Height: To 100 cm.

Calcareous soils, grassland, roadsides, coastal cliffs.

Similar: Sea Carrot (D.carota ssp. gummifer)
Flowers June-July. Blunter, fleshy leaflets. Hairier. Umbels only slightly contract
in fruit. Shorter, to 25cm. Coastal, SW, SE Ireland.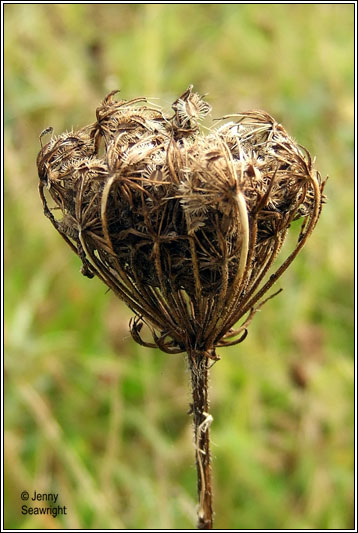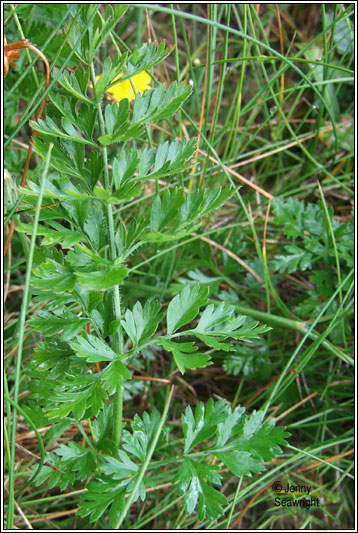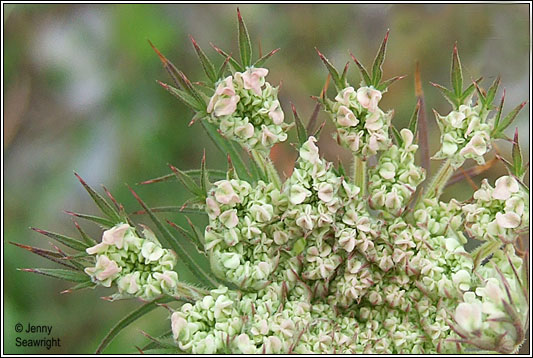 Wild Carrot. County Cork.