Irish wildflowers




Photographs: County Cork



Upright Hedge-parsley
Torilis japonica
Fionnas fáil
Family: Apiaceae

Flowering time: July - August. Annual. Native.

Long-stalked terminal umbels of white flowers, often pink-tinged. 5-12 rays.
Bracteoles and several small bracts. Leaves finely divided, twice pinnate. Solid green stems, erect. Leaves, stems feel rough to touch. Height: To 90cm.

Very frequent, roadsides, hedgerows, woodland edges.

Related: Knotted Hedge-parsley, T. nodosa. Weak stems, often prostrate. Small white flowers. Occasional, coastal S, SE Ireland.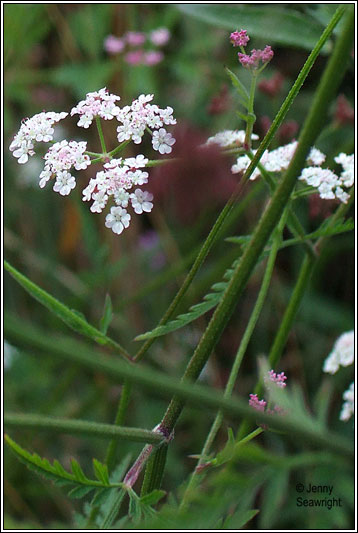 Photographs above: Ballingeary area, Co.Cork. August 2006