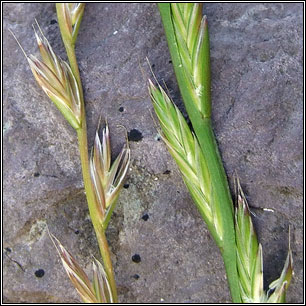 Italian Rye-grass x Perennial Rye-grass
Lolium multiflorum x perenne (L. x boucheanum)
Family: Poaceae

Flowering May-September. Annual or short-lived perennial. Native.
Identification confirmed by Paul Green

A fertile hybrid capable of setting seed and persisting for several years, can occur spontaneously. Found on roadsides, field margins and waste ground but is very under-recorded.

Similar: Italian Rye-grass, Lolium multiflorum and
Perennial Rye-grass, Lolium perenne.