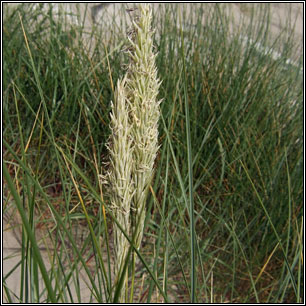 Marram
Ammophila arenaria
Muiríneach
Family: Poaceae

Flowering July - August. Perennial. Native.

Thick, spike-like flowerheads with crowded, 1-flowered spikelets with long, silky hairs. Clumps of stiff, sharp-pointed leaves with inrolled margins. 100+ new shoots can be produced each year from a single clump. Far-spreading, tough rhizines. Height to 120cm.

Abundant and sometimes invasive on shifting and stable coastal dunes, rarely found on inland dunes.