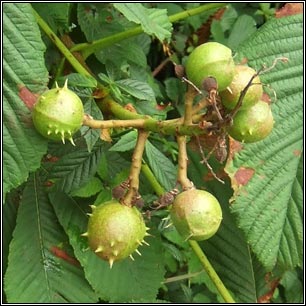 Horse-chestnut
Aesculus hippocastanum
Crann cnů capaill
Family: Hippocastanaceae

Flowering May - June. Deciduous. Introduced.

Erect panicles of white flowers with pink or yellow blotch at base. Followed by very spiny yellowish-green fruit conaining shiny-brown seed (conker). Coarse-toothed leaves with 5-7 leaflets. Leaf buds large, sticky, dark-brown. Bark greyish-brown, smooth, flaking with age. Large spreading tree, to 25m.

Frequently planted, occasionally found self-sown.