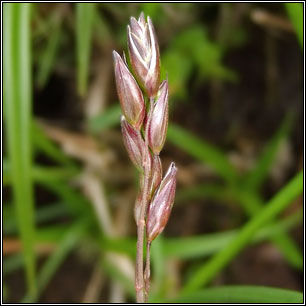 Heath-grass
Danthonia decumbens
Féar caoráin
Family: Poaceae

Flowering June - August. Perennial. Native.

Narrow, compact flowerheads with 3-6 green or purplish, 4-6 flowered spikelets, the florets usually not opening. Flat or folded greyish-green leaves with round sheaths, the ligule a dense fringe of short hairs. Tufted growth, height 10-40cm.

Widespread, frequent on damp, acidic soils in upland areas of Ireland. Can also be found where an acidic layer overlays calcareous rocks. Has declined due to the loss of permanent pastures.