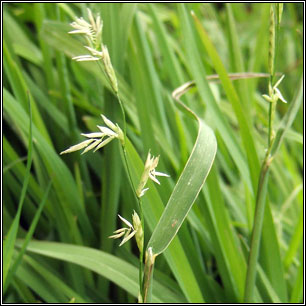 Floating Sweet-grass
Glyceria fluitans
Milseán uisce
Family: Poaceae

Flowering May - August. Perennial. Native.

Sprawling, rooting stems with roughish flat pale-green leaves often floating on surface of water. Ligules often torn at tips. Erect little or un-branched flowerheads, greenish spikelets. Stems 40-100cm.

Very common throughout Ireland. Grows on mud at water margins or forms floating rafts in shallow still or slow-moving water.
Identification confirmed by Paul Green, Co.Wexford.