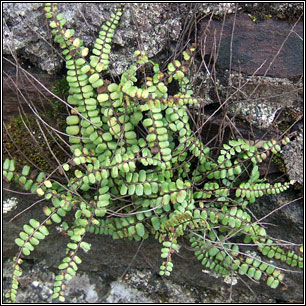 Maidenhair Spleenwort
Asplenium trichomanes
Lus na seilge
Family: Aspleniaceae

Spores ripen May-October. Evergreen. Native.

Forms dense tufts, often with dead stalks (rachis) present.
Dark-green fronds are narrow, long, once pinnate. 5-30cm long.
Segments (pinnae) more/less equal-sized, broad oval or oblong.
Long, narrow sori. Wiry black leaf-stalks and rachis.

Throughout Ireland, very frequent on rocks and walls.

Similar:

Green Spleenwort, A. viride. Green stems and stalks. Lime-green, rounded pinnae. Mountain crevices, mainly NW Ireland.