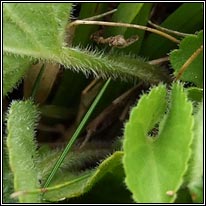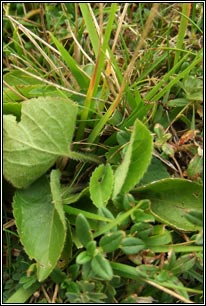 Hairy Violet
Viola hirta
Sailchuach ghiobach
Family: Violaceae

Flowering March-May. Perennial. Native.

Unscented pale violet-blue flowers with blunt sepals. Spreading hairs on seed-capsules, flower and leaf-stalks. Leaves longer than wide, bases deeply cordate, hairy. No stolons, flowers and leaves grow from central tuft.

Calcareous ground, dry grassland, limestone rocks. Very rare, scattered distribution on Aran Islands and in Co. Limerick and Co. Dublin.