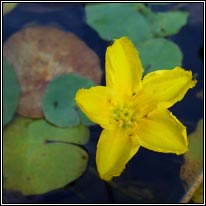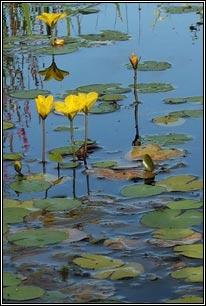 Fringed Water-lily
Nymphoides peltata
Scéithín uisce
Family: Menyanthaceae

Flowering July-September. Aquatic perennial. Invasive garden escape.

5-petalled yellow flowers, petals with fringed edges. Fruit capsule contains flattened seeds with stiff marginal hairs. Leaves resemble small water-lily leaves. Spreads very rapidly, floating fragments root and establish easily.
Frequently planted, has potential to become very invasive as a garden escape.

Listed under Irelands Target 10 - Managing Invasive Alien Species.