Irish wildflowers sitemap




Photos: roadside Co.Cork





Yellow Archangel
Lamiastrum galeobdolon ssp. argentatum
Family: Lamiaceae

Flowering spring to early summer. Perennial. Introduced. Garden escape.

Two-lipped yellow flowers with darker spots in leafy whorls. Evergreen
toothed leaves, mid-green with silver markings. Square stems, erect and
creeping. Produces many rooting runners. Wide spreading, can be very invasive.

Grows on a variety of soils, and is sometimes naturalised on roadsides,
edges of woodland or where garden waste has been dumped.
Introduced garden escape or discard.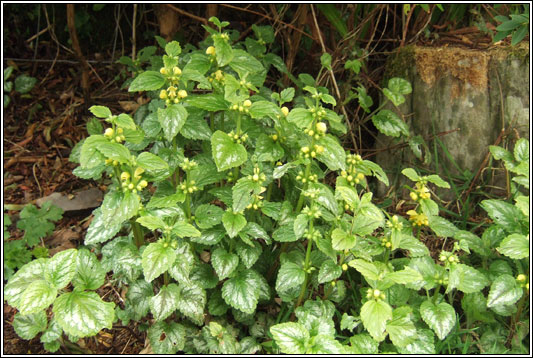 Yellow Archangel. Co.Cork. April 2008