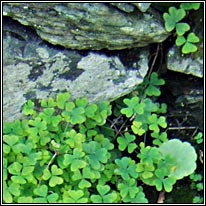 Photos: Castletownsend, Co.Cork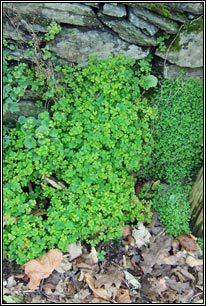 Upright Yellow-sorrel
Oxalis stricta
Seamsóg ghallda
Family: Oxalidaceae

Flowering: May-October. Annual or short-lived perennial. Garden escape.

Umbels of 2-5 yellow flowers, seeds without white patches. Flower stalks erect when fruiting. Self-pollinating, seeds freely. Tri-foliate leaves with heart-shaped leaflets, sometimes purple-tinged. Stems not rooting at nodes. Slender underground stolons. Confirmed by Paul Green

Introduced garden weed, occasional garden escape. Usually casual but can
be persistent. Most frequent in NE Ireland.