Irish wildflowers




Photographs: The Burren, Co.Clare





Herb-robert
Geranium robertianum subsp. celticum
Ruithéal rí
Family: Geraniaceae

Flowering: May-September. Perennial. Native.

This form of Herb-robert has a restriction of anthocyanin (the red and purple pigment) to the leaf stalks and stem-nodes.
Large paler flowers. Anthers usually red or purple. The fruit is usually more or less hairless, large. Stems and leaves nearly hairless, pale green.

Limestone rocks on or near the coast in the Burren and in other areas of central Western Ireland. Identified by Paul Green.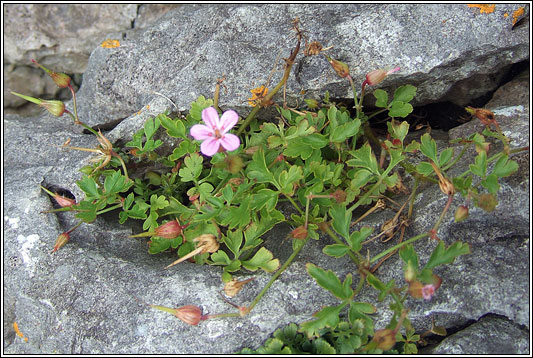 Above: Herb-robert (ssp.celticum). The Burren, Co.Clare. August 2007