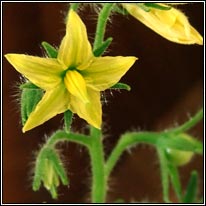 Photo below: Macroom, Co.Cork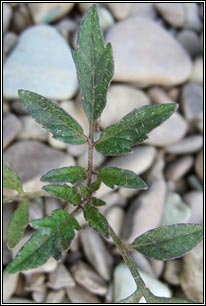 Tomato
Solanum lycopersicum (Lycopersicon esculentum)
Tráta
Family: Solanaceae

Annual. Introduced. Garden escape.

Yellow flowers with star-shaped, deep-lobed calyx. Fruit is round, succulent, usually ripens red. Pinnate leaves with lobed or toothed leaflets. Stems erect or scrambling. To 2m. Frost tender, the fruit of self-sown plants rarely ripens.

Often found near urban areas or ports. Waste ground, sewage works, roadsides, river gravel, beaches. Casual. Garden escape.