Irish wildflowers



Photos: Foynes, Co.Limerick



Hoary Mustard
Hirschfeldia incana
Mustard liath
Family: Brassicaceae

Flowering: May-October. Annual or short-lived perennial. Introduced.

Long racemes of pale-yellow flowers, over-topping buds. Erect, adpressed fruit with swollen beak. One seed in beak. Leaves grey-green, usually hairless above, hairy beneath. Coarse-toothed, deeply pinnate lobed. Terminal lobe largest. Stem leaves narrow-lanceolate. Stems white-pubescent below, stiff short hairs. Height: To 1.2m

Dry ground. Roadsides, waste ground, urban areas. Established in Dublin, found as rare casual elsewhere in Ireland.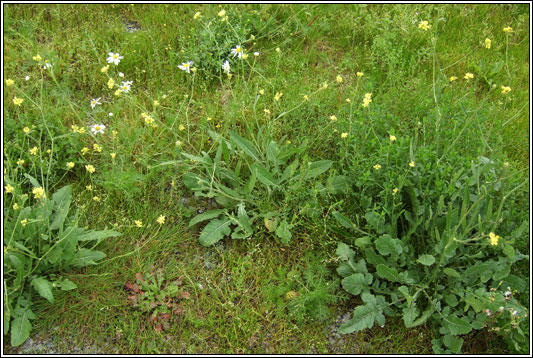 Hoary Mustard. Foynes Port, Co.Limerick. August 2008