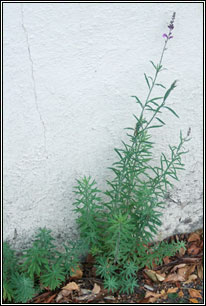 Purple Toadflax
Linaria purpurea
Buaflíon corcra
Family: Scrophulariaceae

Flowering time: June-September. Perennial. Introduced.

Spikes of lipped mauve-purple flowers with curved spurs. Many narrow leaves,
lower in whorls, stem leaves alternate. Erect ascending stems, often branched. Height: 30-80cm.

Garden escape. Waste ground, roadsides, pavements, walls. Mainly Dublin and NE Ireland, occasionally found elsewhere in Ireland.