Photos: Bantry, Co.Cork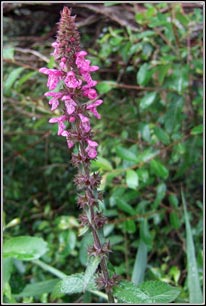 Hybrid Woundwort
Stachys x ambigua (S. palustris x S. sylvatica)
Family: Lamiaceae

Sterile hybrid:
Marsh Woundwort, S. palustris x Hedge Woundwort, S. sylvatica.
Variable, appears as larger version of Marsh Woundwort, S. palustris.

Flowering time: July-September. Perennial. Native.
Darker red-purple flowers, short upper leaf-stalks. More/less sterile, few/no seeds ripen. Spreads by fragments of root rhizomes. Frequently grows in the absence of either parent. Identification confirmed by Paul Green, Co.Wexford.

Occasionally recorded. Damp ground.