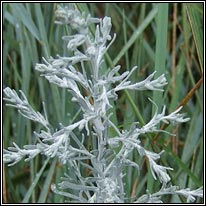 Photos: Aughinish, Co.Limerick





Sea Wormwood
Artemisia maritima (Seriphidium maritimum)
Liath na trá
Family: Asteraceae

Flowering: August-October. Perennial. Native.

Leafy panicles of small egg-shaped orange/yellow flowers. Leaves downy, aromatic, grey-green, 2-3 pinnately-lobed. Lower leaves wither before flowering time. Many non-flowering leafy shoots. Spreading/erect growth. Height 30-80cm.

Rare, very local distribution around W and E Irish coasts. Coastal on sea walls,
drier areas of muddy or rocky salt-marshes.