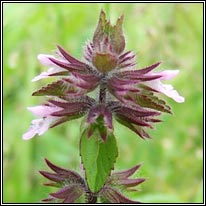 Photos: Ballingeary area, Co.Cork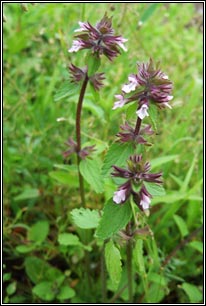 Field Woundwort
Stachys arvensis
Cuislín gan duaire
Family: Lamiaceae

Flowering time: April-September. Annual. Introduced.

Axillary whorls of pale pink-purple flowers, 2-lipped, 4 stamens. Form leafy spikes. Calyx nearly as long as or equal to corolla. Blunt-toothed, oval leaves, lower leaves stalked. Upper leaves un-stalked. Hairy, branched, straggling or sometimes erect plant. Height: To 25cm.

Occasional, mainly found in S and SE Ireland. Arable weed, acidic or sandy cultivated or waste ground.