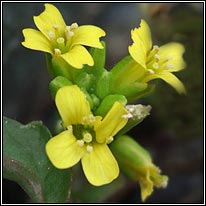 Photos: Bantry, Co.Cork





Medium-flowered Wintercress
Barbarea intermedia
Treabhach meánach
Family: Brassicaceae

Flowering: March-July. Usually biennial. Introduced.

Small 4-petalled yellow flowers, 5-7mm. Un-beaked seed-pods, usually erect with short styles. Less than 4cm long. Pinnate basal leaves, 3-6 pairs lateral leaflets. Less prominent end-lobe than Wintercress, B. vulgaris.. Uppermost stem leaves more/less pinnately-lobed to more than halfway to midrib. Hairless. To 60cm.

Roadsides, waste ground, fields. Frequent NE, occasional elsewhere.
Identification confirmed Paul Green, Co.Wexford.