Irish wildflowers




Photos: nr Ballingeary, Co.Cork





Pale Butterwort
Pinguicula lusitanica
Leith uisce beag
Family: Lentibulariaceae

Flowering time: July-October Perennial. Native.

Small pale lilac-pink flowers, often tinged yellow in throat.
Globular seed capsule.
Olive leaves with purple veins. Sticky glands on leaf surfaces catch
insects which are digested to provide nutrients for the plant.
Height: The smallest butterwort, flower-stem only 3-10 cm tall.

Found on wet heaths, sphagnum bogs, by mountain streams.
Locally frequent in extreme W Ireland, rare elsewhere.
Threatened by loss of habitat.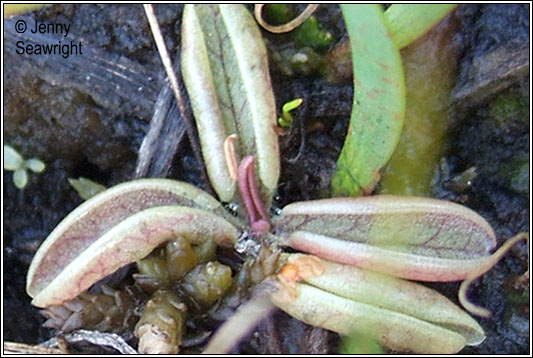 Photograph above: Near Ballingeary, County Cork.