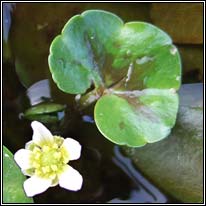 Photographs: Ballingeary, Co.Cork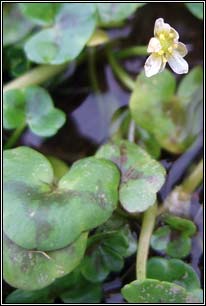 Ivy-leaved Crowfoot
Ranunculus hederaceus
Néal uisce eidhneach
Family: Ranunculaceae

Flowering: March-August. Aquatic annual or perennial. Native.

Small white flowers, 4-7mm diameter. Sepals not reflexed, slightly shorter than petals. Hairless young fruits. Long stalked leaves, all laminar, sometimes with dark blotch. 5 short, rounded lobes, broadest at base. No incisions between lobes. Rooting at intervals from nodes.
Frequent except in parts of central Ireland. Grows in wet mud or shallow water.

Photographs are probably of Round-leaved Crowfoot, R. omiophyllus.
Correction by Paul Green.