Irish wildflowers




Photos: The Gearagh, Co.Cork





Creeping Jenny
Lysimachia nummularia
Lus an dá phingin
Family: Primulaceae

Flowering time: June-August. Perennial. Native / introduced.

Solitary cup-shaped yellow flowers growing in leaf axils.
Broad-triangular sepals. Flower stalks about same length as leaves.
Leaves round or bluntly oval, hairless, short-stalked. Evergreen.
Creeping stems, rooting at lower nodes.
Rarely sets seed, but can spread rapidly from fragments of root.

Habitat: Damp soils near water, also woods, shaded hedges, damp grassland.
Probably native in south, but possibly introduced in north of Ireland.

Similar: Yellow Pimpernel, L. nemorum.
Narrower pointed leaves, smaller open yellow flowers. Prefers dryer ground.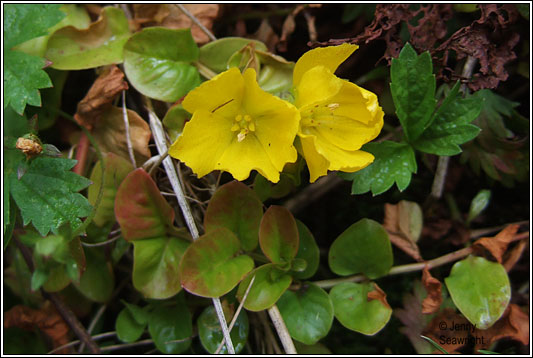 Photograph above: Near Macroom, County Cork. July 2007.