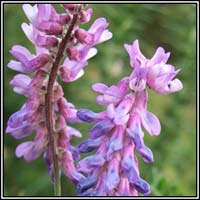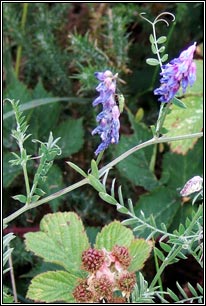 Tufted Vetch
Vicia cracca
Peasair na luch
Family: Fabaceae

Flowering time: June-August. Perennial. Native.

Long-stalked racemes of numerous bright purple-blue flowers. Brown hairless seed-pods with 6-8 seeds. Leaves with 8-12 pairs of narrow-lanceolate, pointed leaflets. Leaflet sides more or less parallel. Entire stipules. Plant usually downy or silky with branched tendrils. Scrambling and climbing to 150cm.

Abundant. Roadsides, hedgebanks, woodland edges.