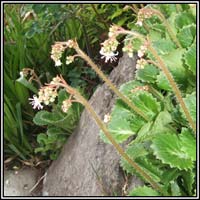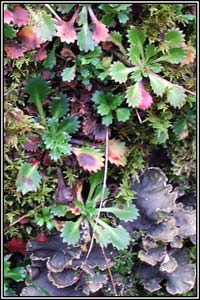 St.Patricks Cabbage
Saxifraga spathularis
Cabáiste an mhadra rua
Family: Saxifragaceae

Flowering time: May-July. Perennial. Native.

Numerous small white flowers, down-turned red sepals. Pink anthers, ovary. Petals have several pink spots near centre, 2 yellow spots near base. Basal rosettes of coarse-toothed, spoon-shaped leaves with transluscent margins. The broad flat leaf stalks are sparsely hairy, usually longer than leaf. Height: 15-40 cm.
Part of Lusitanian Flora

Mainly S, W Ireland, locally abundant on damp acidic rocks.

Sometimes confused with London-pride (Saxifraga × urbium), a garden plant with scattered records mainly in Northern Ireland.



Similar: Kidney Saxifrage, S. hirsuta