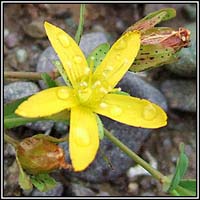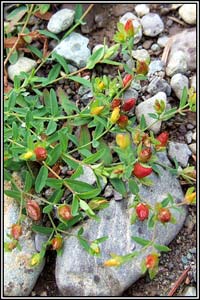 Trailing St. John's-wort
Hypericum humifusum
Beathnua sraoilleach
Family: Hypericaceae

Flowering time: June-September. Perennial. Native.

Small yellow flowers, with red-tinged flower buds. Unequal sepals.
Petals slightly longer than sepals. Oval-elliptic opposite leaves.
Translucent glands, black glands on leaf edges. Hairless.
Many prostrate or trailing stems, 2-ridged, branched. Spread: 10-20 cm.

Common on acidic heaths, open woodland, tracks and paths.
Prefers open ground.