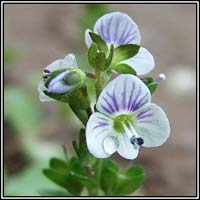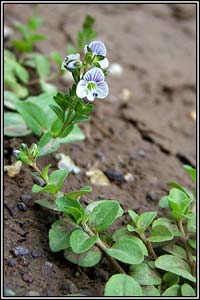 Thyme-leaved Speedwell
Veronica serpyllifolia
Lus an treacha
Family: Scrophulariaceae

Flowering time: March-October. Perennial. Native.

Flowers pale-blue to white with dark blue lines, in terminal racemes. Oblong
calyx lobes. Short-stalked oval leaves are hairless/slightly downy. More or less untoothed. Creeping, rooting stem with erect flower stalks. To 20cm.

Abundant in most areas. Found on grassland, heaths, open woodland,
waste ground, roadsides.