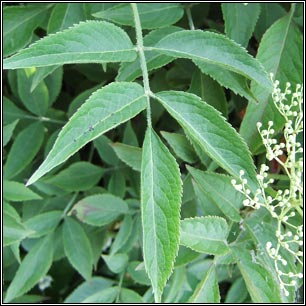 Elder
Sambucus nigra
Trom
Family: Caprifoliaceae

Flowering: June-July. Fruiting: August-September.
Deciduous small tree or shrub. Native.

Umbels of scented creamy-white flowers are followed by purple-black edible berries in late summer and autumn. Leaves with 5-9 leaflets. Greyish-brown furrowed, corky bark, pithy stems. Many suckers are produced from base. Seeds often spread by birds. Height: To 10 m

Widespread in fertile soils. Woods, scrub land, hedgerows. Native.

Similar: Dwarf Elder, S. ebulus. Large herb to 180cm. Un-scented pink-tinged flowers. Leaves with 7-11 sharp-toothed leaflets.