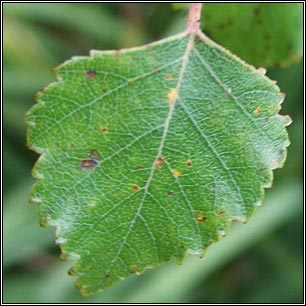 Silver Birch

Downy Birch
Betula pendula

Betula pubescens
Beith gael

Beith chl˙mhach
Family: Betulaceae

Flowering April-May. Small-medium sized deciduous trees, to 20m. Downy Birch and Silver Birch are difficult to identify between. Both have triangular leaves, slender twigs and peeling bark.

Silver Birch: Slender tree, drooping twigs. Twigs with whitish raised glands, twigs and leaves not downy. Leaves with slender point, sharp-toothed with regularly-spaced longer teeth. White bark with dark ridges and cracks.
Occasional on light, well-drained acidic soil. Native in Co.Carlow, N.Tipperary and W.Galway, status uncertain in other areas.

Downy Birch: Bushier tree, not pendulous. Downy twigs, small brown glands. Downy leaves without slender point at tip. Darker bark.
Widespread, can be locally abundant. Prefers wetter, acidic, peaty soils. Woods, roadsides, open heaths, cut-away bogs. Native, also frequently planted.