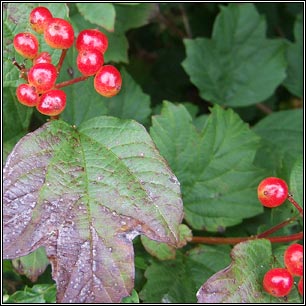 Guelder-rose
Viburnum opulus
Coar chon
Family: Caprifoliaceae

Deciduous large shrub or small tree. Native.
Flowering: May-July, fruiting September-October.

Flat umbels of white flowers. Inner flowers are fertile, outer are sterile. Slightly scented. Red fruit, poisonous. Palmate leaves, 3-5 lobed, irregularly toothed, opposite. Leaves turning reddish in autumn. Scaly buds. Height: To 4m

Prefers damp neutral or calcareous ground, riverbanks, woodland edges. Also found in dryer woods, scrubland, hedgerows.
Occasional as native but frequently planted in gardens and hedges.