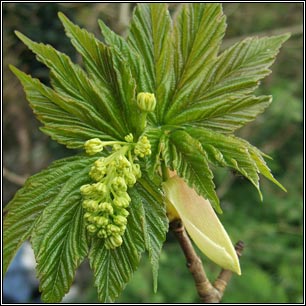 Sycamore
Acer pseudoplatanus
Seiceamóir
Family: Aceraceae

Flowering April - June. Deciduous. Introduced.

Drooping panicles of yellowish-green flowers followed by hairless, winged fruit. Self-seeds prolifically. Large 5-lobed leaves, lobes coarse-toothed. Smooth grey bark. Fast-growing, height to 30m.

Abundant in woods, hedges and on waste ground. Naturalised in wide range of habitats, can be invasive.