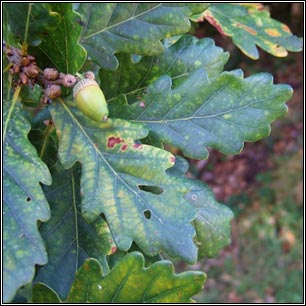 Sessile Oak

Pendunculate Oak
Quercus petraea

Quercus robur
Dair ghaelach

Dair ghallda
Family: Fagaceae

Family: Fagaceae

Flowering April-May. Deciduous. Native, also extensively planted.

Sessile Oak: Leaf-stalks more than 12mm long. Acorns stalkless or with very short-stalks. Woods and hedges. Very frequent on acidic soils in mountainous areas.

Pendunculate Oak: Leaf-stalks less than 5mm long. Acorns with stalks more than 2cm long. Woods and hedges. Prefers richer, lowland soils.

Hybrids and back-crosses are very frequent and are intermediate in characteristics.