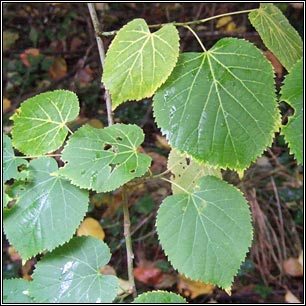 Common Lime
Tilia x europaea (T. cordata x platyphyllos)
Teile
Family: Tiliacea

Flowering June - July. Deciduous. Introduced.

Pendent flower cymes. Yellowish-white slightly fragrant flowers followed by globose, slightly ribbed fruit. Toothed leaves with heart-shaped bases, white hairs on veins beneath. Often covered with sticky, shiny resin exuded by aphids. Smooth grey bark with brown cracks. Large spreading tree when mature, to 30m. Propagates easily from suckers.

Often planted, parkland, amenity areas, woods, roadsides.