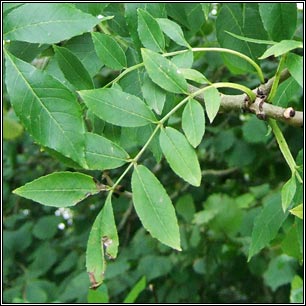 Ash
Fraxinus excelsior
Fuinseog
Family: Oleaceae

Flowering April-May. Deciduous. Native.

Tall tree with pale-grey bark, fast-growing to 20-35+ m.
Dense panicles of small flowers open before leaves, wind-pollinated. Fruit with membranous wing. Leaves opposite, with 9-15 toothed, stalkless leaflets. Black buds. One of the latest trees to leaf in spring and earliest to lose leaves in autumn.

Abundant in hedges, woods, roadsides, rocky areas. Prefers moist but not permanently water-logged ground on basic or limestone soils.