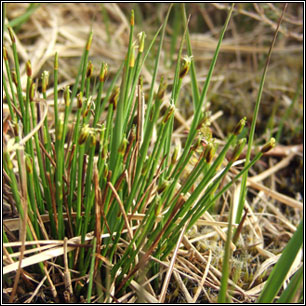 Deergrass
Trichophorum germanicum (Trichophorum cespitosum)
Cíb cheanngheal
Family: Cyperaceae

Flowering May-June. Perennial. Native.

Solitary terminal spikelets, normally 5-flowered, the lowest glume as long as the spikelet with a green tip. Fruit is a 3-sided nut. Densely tufted with narrow, unbranched stems. Leaves basal, usually reduced to brownish sheaths. Forms large tussocks, height 15-30cm.

Can be locally abundant in drier areas of bogs and on both upland and lowland, damp heaths.