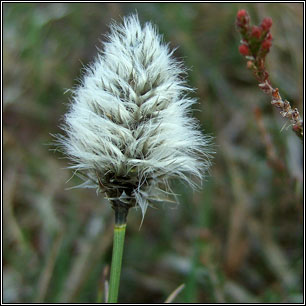 Hare's-tail Cottongrass
Eriophorum vaginatum
Ceannbhán gaelach
Family: Cyperaceae

Flowering April-May. Fruiting May-June. Perennial. Native.

Single erect flower spike on each stem. Grey membranous glumes. Cotton 2-3cm long when fruiting. Densely tufted stems. Narrow leaves, short stem leaves with inflated sheaths. Short rhizomes.

Very frequent on open, acidic moorland and bogs in N, W and central Ireland, occasional in S and E.

Related: Slender Cottongrass, E. gracile.



3-6 spikelets, glumes without membranous margins. Cotton 1-2.5cm when fruiting. Calcareous or moderately acidic wet bogs, mires, fens. Very rare, only W Galway and at sites in Kerry, Cork, W Meath.