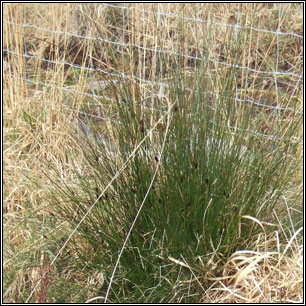 Black Bog-rush
Schoenus nigricans
Sifín
Family: Cyperaceae

Flowering May-September. Perennial. Native.

Tussock-forming with in-rolled leaves. Stiff stems, 25-75cm.
Black shiny spikelets, 5-10 in terminal heads. Much longer bract.
Leaves with narrow blades and blackish sheaths.

Grows on calcareous and base-rich fens, in marshes, bogs and lake margins. Very frequent in West, also found in central Ireland.
In western Ireland it is frequent on acidic blanket bog.