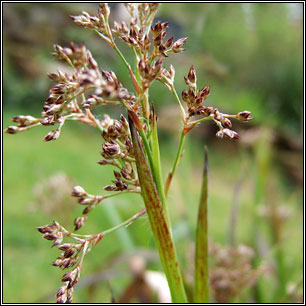 Great Woodrush
Luzula sylvatica
Giúnach mór
Family: Juncaceae

Flowering April-June. Perennial. Native.

The largest Wood-rush, leaves to 30cm, flowering stems to 80cm. Large flowerheads with several mainly long-stalked clusters of 2-5 flowers. Leaves with silky hairs on edges, 10-20mm wide.
Some leaves remaining green through the winter. Forms large, spreading tussocks.

Frequent in shady acidic woods, rocky ledges, moorland.