Irish wildflowers Sitemap

More: Ferns





Wilsons Filmy-fern
Hymenophyllum wilsonii
Dallán sléibhe
Family: Hymenophyllaceae

Spores ripe June-July. Perennial. Native.

Very small, looking more like a moss or liverwort than a fern.
Fronds growing at angle from rock surface, usually 3-10cm (including stalk). Olive-green, very thin, nearly translucent. Dark veins reaching tips. Segments (pinnae) narrow-oblong, slightly recurved.
Sori enclosed by 2 oval un-toothed scales (indusia). (Below left)

On rocks and trees in moist, humid woods and in sheltered mountain crevices and open rock faces. Mainly found in SW, W, NW Ireland.
More frequent than Tunbridge Filmy-fern, H. tunbrigense.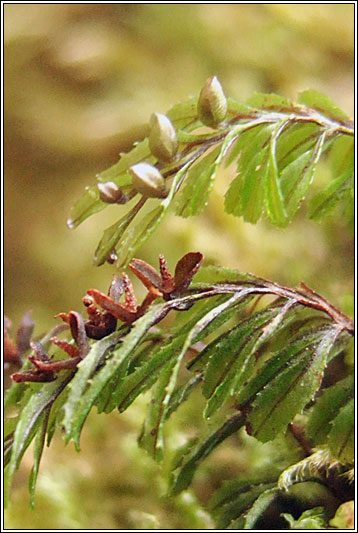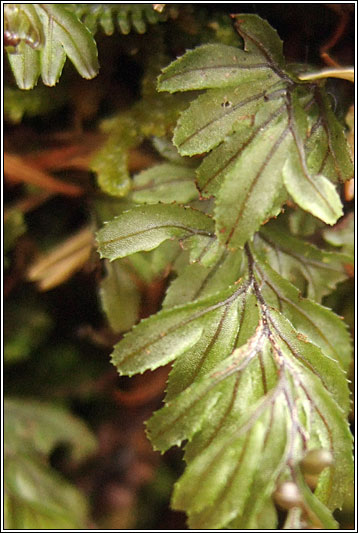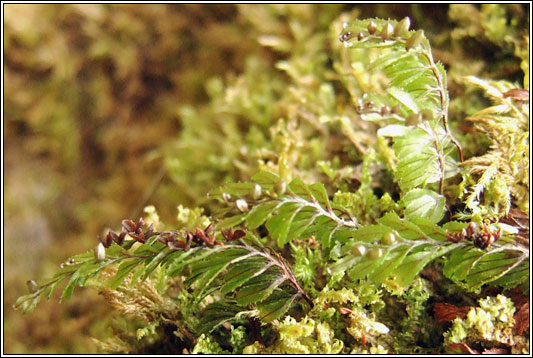 Wilsons Filmy-fern. Gougane Barra, Co.Cork. March 2008