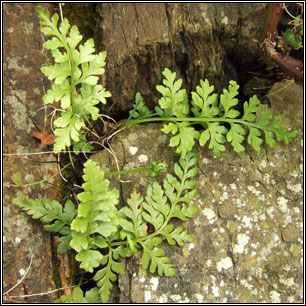 Black Spleenwort
Asplenium adiantum-nigrum
Fionncha dubh
Family: Aspleniaceae

Spores ripen June-October. Evergreen. Native.
Fronds broadest at base, narrow-triangular, glossy, slightly leathery. 10-45cm. Twice or 3-pinnate. Segments oval or lanceolate, often toothed. Long narrow sori, near centre of segments, sometimes merging. Midribs have winged appearance. Brittle greenish/blackish stalks. Very variable, appearance can alter depending on habitat.

Well-drained, lightly shaded walls, banks, cliffs.

Similar:


Irish Spleenwort, A. onopteris. Very rare, mainly SW. Fronds tripinnate, very finely dissected. Narrow segments, long, sharp tips.


Lanceolate Spleenwort, A. obvatum. Very rare, often coastal, mainly SW. Fronds ovate-lanceolate, narrowed at base.